Dennis Meadows on 'The Limits to Growth and the Future of Humanity'
Sustainability Lecture Series
04.12.2012 18:30 – 20:30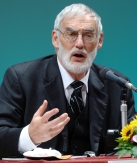 Location: Amerika Haus, Karolinenplatz 3
RCC Interview with Dennis Meadows
Video Footage of Dennis Meadows's Visit to Munich
Video Footage of Dennis Meadows's Lecture 'The Limits to Growth and the Future of Humanity'
2012 marks the 40th anniversary of the publication of The Limits to Growth. Not only has this book been translated into more than 30 languages, it has also sold more than 30 million copies, thus making it the highest selling environmental book in world history. The Limits to Growth unleashed a debate that has yet to end.
Has humankind exceeded the earth's carrying capacity?
Can we avoid resource limits and ecological collapse?
How do we need to change as a species in the face of climate change?
What would a sustainable future look like—one that we could realistically hope to achieve?
Join us for an evening with Dennis Meadows, the co-author of The Limits to Growth, as he discusses these questions with a Munich audience.
Moderators and discussants: Jane Carruthers (Academy of Science, South Africa), Christof Mauch (Rachel Carson Center, LMU München), and Libby Robin (Australian National University, Canberra)
Sponspored by: the Amerika-Institut (LMU Munich), Bayerisch-Amerikanisches Zentrum, Rachel Carson Center for Environment and Society, BenE München e.V., Verein für Nachhaltigkeit
The slides used by Dennis Meadows are now available (PDF, 0.99MB)
A list of questions gathered from the audience at the lecture is also available on the RCC's blog