Library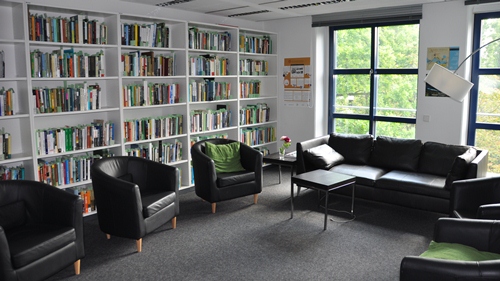 The RCC is home to a library of select publications on the environmental humanities. Part of the greater university library system at LMU Munich, the RCC library currently holds approximately 4,000 books, 500 DVDs, as well as a variety of journals including Environmental History, Environment and History, Environmental Values, and Global Environment.
The library only offers in-house use; visitors are not able to check out the books. However, there is the possibility to scan the books for personal use.
In order to perform an online search of the collection, please visit the university's OPAC catalogue. The RCC has the library number 3400 ("Siegel") in the online catalogue system.
Contact:
The library is open with restricted access.
Please make an appointment before your visit.
Rachel Carson Center
Leopoldstr. 11a, 4. OG
80802 Munich
Rooms: Library 409/411; Support 455
Tel: +49 (0) 89/ 2180-72387
E-Mail: library@rcc.lmu.de
Please familiarize yourself with the current COVID-19 regulations before planning your visit to the RCC library.
As of 24 November 2021, the following (new) rules are mandatory during your visit at the RCC library:
--The obligation to wear a mask (FFP2) while moving through space.
--The so-called "2G-Regel" ("geimpft, genesen"): only people who are either fully vaccinated or have recently recovered from a COVID-19 infection will be allowed access to the RCC. You will be asked to provide proof of this, so please make sure to bring your vaccination certificate (or proof of a positive PCR test no older than 6 months).
The RCC would like to thank those who have generously contributed books to the library collection. A list of our donors can be found here.