Film Screening + Discussion: Up the Yangtze
Green Visions Film Series
07.12.2011 at 20:00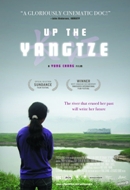 Location: Vortragssaal der Bibliothek, Gasteig, Rosenheimerstr. 5, Munich

Canada 2007, Yung Chang, 93 min.
English
The film provides a snapshot of the controversial Three Gorges Dam shortly before its completion; the dam is flooding one of China's most beautiful landscapes, an area of over one thousand square kilometers. Filmmaker Yung Chang shows the consequences for the local population through the example of 16-year-old Shui, who is forced to leave her home to work on a cruise ship that guides wealthy Western tourists through this new tourist attraction—the disappearing landscape.
A discussion in German with Prof. Dr. Christof Mauch, the director of the Rachel Carson Center, will take place following the film.
The event is free and open to the public. Reservations can be made under 089/ 93 94 89 60.
The Green Visions film series is a cooperative project between the Rachel Carson Center for Environment and Society, Ecomove International, the Ökologisches Bildungszentrum, and the Münchner Volkshochschule. The series is being curated by former Carson Fellow and RCC Associate Alexa Weik von Mossner.
Film Series Flyer - German (pdf, 372 KB)