The Last Grass
A Photography Exhibition by Monica Vasile, Arryn Snowball, and Ștefan Voicu
29.05.2017 at 17:00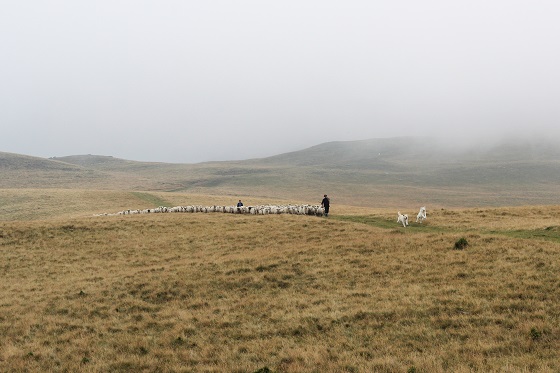 Location: Rachel Carson Center, 4th floor lobby
On 20 August 2016, the sheep herders of the Southern Carpathians were driving thousands of sheep down the mountains from the summer ranges. Bands of sheep along with their shepherds, donkeys and dogs were following the stock trails, lining an empty, misty landscape, a terrain covered in yellowish rough grass. This year, the grass had 'finished' early on the alpine meadows. It was dry--drier than it normally was at this time of the year.
Keeping sheep is still a profitable local business in Romania, despite the fact that markets are scarce, prices are low, and the pastoral economy increasingly depends on EU subsidies. Țara Loviștei, an area from the central Southern Carpathians, has always been fraught with grazing disputes. The grass on the mountain ranges and around the villages has never been enough for the many local shepherds. Over the past 200 years, the local courts have had to periodically issue dispute settlements, as an attempt to resolve the never-ending conflicts, a constant tragedy of the commons. Yet, overgrazing is no longer the reason why the grass 'finished' early, but instead drought and climate issues.
The exhibition, ''The Last Grass,'' explores the lives of sheep herders and the hired shepherds. It brings together photographs from Țara Loviștei, describing life on the summer ranges at the sheepfolds, the journey down the mountains, and the lives of shepherds back in the village as homesteaders. The photographers, Arryn Snowball and Ștefan Voicu, have different backgrounds, reflected in their different visual sensibilities: Arryn is an Australian abstract painter and Ștefan is a Romanian anthropologist. Photographs were taken around the date of 20 August 2016, an intense time for the sheep herders of the area, as part of a research project aiming at investigating Romanian commons more broadly. Monica Vasile, a current Carson fellow, has curated the exhibition.