Men and Nature: Gender, Power, and Environmental Change
Workshop
26.02.2016 – 28.02.2016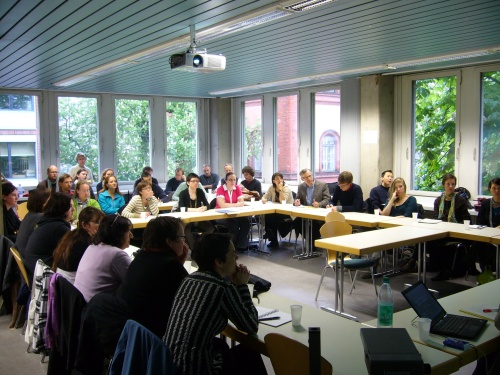 Date: 26–28 February 2016
Location: Rachel Carson Center for Environment and Society, LMU Munich, Germany
Conveners: Sherilyn MacGregor (University of Manchester, UK) and Nicole Seymour (California State University, Fullerton, USA)
"Gender," in the environmental humanities and social sciences, has long been synonymous with "women." Feminist and ecofeminist scholars have produced a great deal of work on the links between femininities and environments and on women's involvement in environmental politics and practices. More recently, the emerging field of queer ecology has troubled the binary construction of gender that traditionally has informed (eco)feminist research. What remains under-addressed are the myriad ways in which masculinities and masculinized roles, identities, and practices shape human relationships with the more-than-human world. Indeed, the few available scholarly articles that do interrogate masculinity and environment begin with the recognition (and a lament) that there is so little research available.
Of course, men of all backgrounds figure prominently in local and global environmental (his)stories, and elite men hold the most cultural and economic power to shape the contemporary environmental problematique. But rarely is their gender itself an object of critical inquiry and analysis. It is the purpose of this RCC workshop to shine light on and perhaps start to redress this curious lacuna in the environmental humanities and social sciences literature.The workshop aims to bring together academics, professionals, artists, writers, and activists who have an interest in exploring the connections between masculinities and environmental change in the past, in contemporary societies, and in visions of the future.
Friday night the workshop opens with a kick-off event open to the public in the LMU main building (room M 210) Please find the program for Friday night here.
The program for Saturday and Sunday can be found here.
Read the conference report.
Submitted papers (for participants only; password protected)
Hübner, Stefan
Joe Curnow; Jody Chan
De Luna, Kathryn M.
Hultman, Martin
Abberley, Will
Leikam Susanne
Johnson, Alex
Fleming, Jim
Loomis, Erik
von Thurn, Nicola
Kambe, Naoki
Gonda, Noemi
Olaoluwa, Senayon