Discovering Environmental Humanities: Recovering the Environment in Africa and the African in the Environment
Sponsored Panel at the African Studies Association of Africa (ASAA) Conference
16.10.2015
Location: University of Ibadan, Nigeria
Conveners: John Agbonifo (Osun State University, Nigeria), Noah Echa Attah (Joseph Ayo Babalola University, Nigeria)
Sponsors: African Network for Environmental Humanities (ANEH), Rachel Carson Center for Environment and Society
The African Network of Environmental Humanities (ANEH), with the generous support of the Rachel Carson Centre for Environment and Society, announced its presence during the international conference of the African Studies Association of Africa (ASAA) at the University of Ibadan, Nigeria. The ANEH was founded by alumni fellow John Agbonifo. The ANEH hosted a panel on "Discovering Environmental Humanities: Recovering the Environment in Africa and the African in the Environment." Panelists presented a range of empirically informed papers on diverse aspects of the environment; all of these papers dovetailed with the theme of the conference: "African Studies in the 21st Century: Past, Present and Future."
In his opening remarks, John Agbonifo traced the genesis of the idea of the ANEH to RCC director Christof Mauch and the moral and material support of the RCC. In appreciation of the RCC generosity, participants gave a standing ovation to the RCC.
At a post-panel meeting, the ANEH deliberated on several issues related to how to move the network forward. A major point agreed upon at the meeting was that the network shall hold a roundtable in February 2016. In addition, panelists were advised to revise their papers as efforts would be made to explore the possibility of having the papers published in a special edition of the African Historical Review (AHR).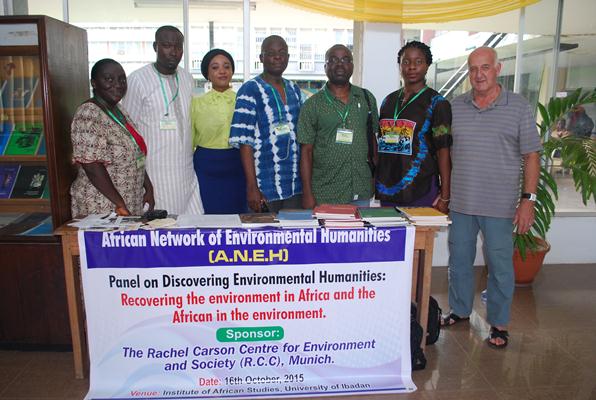 Panel participants at the ANEH table; alumni fellow John Agbonifo is third from right.
The conference report can be read here.