Whose Waste? Whose Problem?
Conference
23.10.2014 – 25.10.2014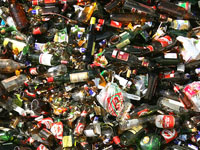 Location: Center for Advanced Studies, Seestr. 13, Munich
Conveners: Eveline Dürr (LMU), Soraya Heuss (LMU), Roman Koster (LMU), and Christof Mauch (LMU/RCC)
Please note, the Lunchtime Colloquium Talk by Michael Braungart will take place in the Katholische Hochschulgemeinde, Leopoldstr. 11.
Waste has until now mainly been a technical problem, matched by technical solutions in waste disposal, waste management, and recycling. But waste is a complex phenomenon that can only be fully understood by exploring cultural perceptions and social practices alongside the technical strategies for dealing with waste. A broader view helps us to focus more clearly on the political topicality of waste, for instance in the context of the fast-growing megacities. It is all the more surprising, therefore, that there has not yet been any systematic research into the social, legal, and political discussions about waste in the light of modern developments.
This three-day workshop, as part of the LMU Center for Advanced Studies research focus "Waste in Environment and Society," features presentations by leading scholars on "waste-scapes," how waste travels, and the possibility of a future without waste.
Presenters include:
Catherine Alexander (Anthropologist, University of Durham)
Amanda Boetzkes (Art Historian, Ohio State University)
Kate Brown (Historian, University of Maryland, Baltimore)
Christian Felske (City of Edmonton, Waste Management Services)
Stefania Gallini (Historian, Universidad Nacional de Colombia, Bogotá)
Zsuzsa Gille (Sociologist, University of Illinois at Urbana-Champaign)
Richard Grant (Geographer, University of Miami)
Jutta Gutberlet (Geographer, University of Victoria)
Sarah Hill (Anthropologist, Western Michigan University)
Herbert Köpnick (formerly from the Bavarian Ministry for Environment and Health)
Martin Melosi (Historian, University of Houston)
Jorge Fernández Niello (Environmental Engineer, Universidad Nacional de San Martín)
Gerhard Rettenberger (Engineer, Hochschule Trier)
Vera Susanne Rottner (Engineer, Waste Management)
Djahane Salehabadi (Sociologist)
Tian Song (Philosopher/Sociologist, Beijing Normal University)
Carl Zimring (Environmental Historian, Pratt Institute)
This event is free and open to the public. However, registration is required, as space is limited. Please register via events@carsoncenter.lmu.de by 6 October 2014.
The full program can be downloaded here. (PDF, 632 KB)
Downloads