Rivers, Cities, Historical Interactions
Workshop
21.02.2013 – 23.02.2013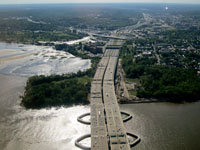 Location: Internationales Begegnungszentrum der Wissenschaft (IBZ), Amalienstraße 38, Munich
Organizers: Martin Knoll (Darmstadt Technical University), Uwe Lübken (RCC), Dieter Schott (Darmstadt Technical University)
Program (pdf, 224 KB)
What is the river's place in urban history? The historical co-evolution of cities and rivers is a research topic that requires both an urban and an environmental perspective. Rivers have been essential to the foundation, growth, prosperity and development of many major cities around the world. At the same time, cities have considerably altered rivers and created their own hydraulic regimes.
This conference will explore city-river relations as an essential part of urban environmental history. We want to apply a comparative perspective, both in chronological and regional terms, focusing on cities in different world regions. We are interested in long-term legacies, as well as in fundamental change in city-river relations between pre-industrial and industrialized societies.
Interested in presenting? Download the Call for Papers (pdf, 157 KB). Deadline for proposals is August 1, 2012.
Questions about the conference? Contact Uwe Lübken.
Submitted Papers (For participants only, password protected)
Sabine Barles (pdf, 6,090 KB)
Christoph Bernhardt (pdf, 830 KB)
Igor Chabrowski (pdf, 1,522 KB)
Nico Döring (pdf, 2,969 KB)
Carlos Gomez Florentin (pdf, 323 KB)
Shelley Hornstein (pdf, 13,878 KB)
Agnes Kneitz (pdf, 177 KB)
Daniel MacFarlane (pdf, 2,178 KB)
Geneviève Massard-Guilbaud (pdf, 2,601 KB)
Guido Hausmann (pdf, 93 KB)
Louise Nelson Dyble (pdf, 495 KB)
Giacomo Parrinello (pdf, 1,101 KB)
Harold Platt (pdf, 2,340 KB)
Donna J. Rilling (pdf, 16,873 KB)
Fabio Vladimir Sánchez (pdf, 691 KB)
Dirk Schubert (pdf, 253 KB)
Awadhendra Sharan (pdf, 389 KB)
David Stradling (pdf, 551 KB)
Michael Toyka-Seid (pdf, 109 KB)
Vanessa Taylor (pdf, 291 KB)
Shirley Ye (pdf, 86 KB)