Film Screening + Discussion - A Crude Awakening: The Oil Crash
Green Visions Film Series
11.01.2012 at 20:00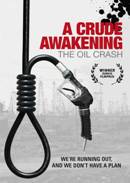 Location: Vortragssaal der Bibliothek, Gasteig, Rosenheimerstr. 5, Munich

Film Screening and Discussion with Werner Zittel (ASPO Germany)

Switzerland, Basil Gelpke/Ray McCormack, 85 min.
English original, German subtitles
Peak Oil: This is what the moment will be called when the oil production maximum has been reached and demand will thus be greater than production levels. The film provides an impressive insight into our civilization's dependency on oil and explores the conflict between the high demand of "black gold" and the geological nature of the Earth. In doing so, the filmmaker not only raises questions, but also offers approaches towards solving probably the most important economic and environmental-political challenge of our time.
A discussion in German with Werner Zittel, board member of ASPO (Association for the Study of Peak Oil and Gas) Germany
The event is free and open to the public. Reservations can be made under 089/ 93 94 89 60.
The Green Visions film series is a cooperative project between the Rachel Carson Center for Environment and Society, Ecomove International, the Ökologisches Bildungszentrum, and the Münchner Volkshochschule. The series is being curated by former Carson Fellow and RCC Associate Alexa Weik von Mossner.
Film Series Flyer - German (pdf, 372 KB)