Den Wandel erzählen−Von der Klima- zur Systemfrage
Discussion & World Café
30.11.2019 19:00 – 21:30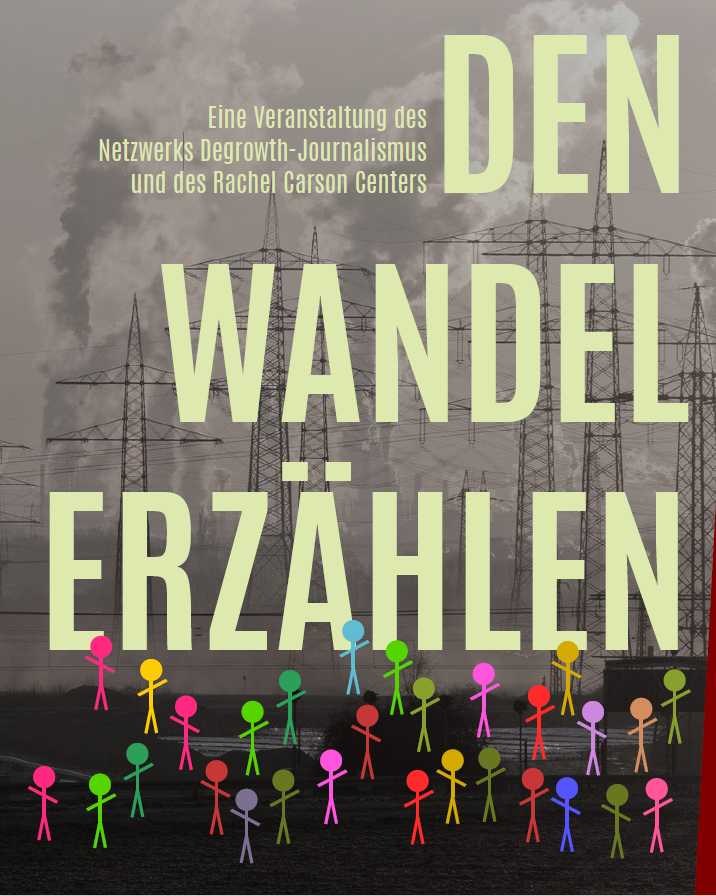 Location: Rachel Carson Center, Leopoldstr. 11a, 4th Floor, Room 415 (conference room)
An event of the network "Degrowth-Journalismus" and the Rachel Carson Center.
The event will be held in German.
Dank Greta Thunberg und der Friday For Future Bewegung schenken die Medien dem Klima gerade mehr Aufmerksamkeit, als man es vor einem Jahr noch zu hoffen wagte.
"Es bleibt wenig Zeit. Es ist ein fast verlorener Kampf. Es ist das moralisch Richtige." So oder so ähnlich rufen sie zum Handeln auf - Wissenschaftler*innen, Aktivist*innen, Journalist*innen, Politiker*innen. Manche stellen gar das Wirtschaftswachstum infrage.
Die Reaktion folgt prompt: "Die Forderungen sind radikal, utopisch, bedrohen den Wohlstand. Man sollte auf den technischen Fortschritt vertrauen." Umweltbewusstsein und -aktivismus wird als Hobby einer selbstgerechten grünen Elite wahrgenommen.
Viele Menschen haben das Gefühl, dass Dinge falsch laufen. Aber die Idee, Wirtschaft ganz anders zu denken, ist bedrohlich.
Was sind Strategien, um vernünftig zu diskutieren und konstruktiv vom Systemwandel zu erzählen?
Wir diskutieren mit
Simone Müller, Rachel Carson Center
Sofia Ritthammer, Extinction Rebellion
Florian Koch, Kartoffelkombinat
Lea Hampel, Journalistin