"Globalising the Climate: COP21 and the Climatisation of Global Debates"
Book Presentation
04.05.2018 14:00 – 15:30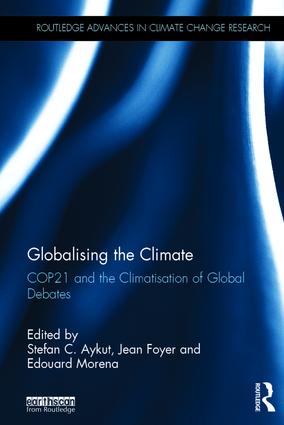 Location: Rachel Carson Center for Environment and Society, Munich, Germany
Book presentation of Globalising the Climate: COP21 and the Climatisation of Global Debates, edited by Stefan C Aykut, Jean Foyer, and Edouard Morena (London: Routledge, 2017).
Frequently presented as a historic last chance to set the world on a course to prevent catastrophic climate change, the 21st Conference of the Parties to the Climate convention (COP21) was a global summit of exceptional proportions. Bringing together negotiators, scientists, journalists, and representatives of global civil society, it also constituted a privileged vantage point for the study of global environmental governance "in the making."
Three contributing authors of Globalising the Climate, Stefan Aykut, Jean Foyer, and Birgit Müller, will come to the Rachel Carson Center to talk about the experience of collective fieldwork at the COP21 that was the basis for this book. Building upon collaborative research carried out by a multidisciplinary team of 20 academics with recognized experience in the field of environmental governance, the book takes COP21 as an entry point to analyze ongoing transformations in global climate politics, and to scrutinize the impact of climate change on global debates more generally. The book defends the idea of a movement of "climatization of the world," i.e, the alignment of different topics (energy, biodiversity, forest, agriculture, business, religion, etc.) on the climate issue, and their treatment according to the logics and practices of what emerges as a "climate regime."
Stefan Aykut will speak about the practice of negotiation and the making of new forms of global climate governance.
Birgit Müller will analyze the discourses and strategies of the business sector at the COP21.
Jean Foyer will speak about the salience of traditional indigenous knowledge in the climate arena.
For more information about the book, click here.