Key Debates in Environmental Anthropology
Inaugural conference of the Environmental Anthropology Working Group, German Anthropological Association (GAA)
26.09.2016 – 27.09.2016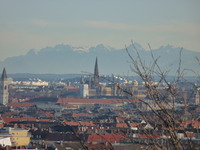 Location: Rachel Carson Center, Munich, Germany
Conveners: Rebecca Hofmann (LMU Munich and PH Freiburg), Ursula Münster (Rachel Carson Center for Environment and Society and LMU Munich), Carsten Wergin (University of Heidelberg and University of New South Wales, Sydney)
This workshop is the inaugural event of the recently founded Environmental Anthropology Working Group of the German Anthropological Association.
During the workshop, participants will discuss key debates and standpoints in environmental anthropology and its diverse engagements with current environmental problems, such as climate change, species extinction, deforestation, industrial pollution, the food crisis, industrial agriculture, and water management. The workshop will give ample space for discussion and is aimed at strengthening the network of environmental anthropologists in Germany and beyond. Participants are invited to interact with international fellows at the Rachel Carson Center for Environment and Society.
There will be a keynote address by Tom Griffiths. Download the program.
This event will be held in English and is open to anyone interested. Please register by 15 August 2016.
Download the conference report or read our blog post on the event.