Film Screening + Discussion: Peak
Green Visions Film Series
20.02.2014 at 20:00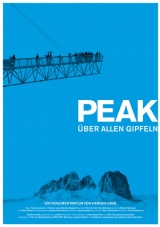 Location: Gasteig München, Vortragssaal der Bibliothek, Rosenheimer Str. 5
Peak looks at the world of alpine ski tourism and reveals what is normally hidden beneath the thick layer of artificial snow: the modification of the landscape and the enduring traces that humans have left on it. At the same time the viewer also experiences the difficulties of surviving in the Alps when the weather has become unpredictable.
Additional film info: Germany and Italy 2011, Hannes Lang, 90 min, German original
A discussion with director Hannes Lang will follow the screening.
Free and open to the public.
Reservations: Call 089 / 48 00 66-239. Reservations are only valid until 19:50.
About Green Visions Film Series
The Green Visions film series presents environmental documentaries from around the world, including discussions with directors, environmental experts, or film critics.
The series is a cooperation between the the RCC, ECOMOVE International, the Ökologisches Bildungszentrum, and the Münchner Volkshochschule. It is curated by former Carson Fellow and RCC Affiliate Alexa Weik von Mossner.