Film Screening + Discussion: Speed
Green Visions Film Series
15.05.2014 at 20:00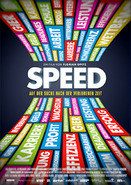 Location: Gasteig München, Vortragssaal der Bibliothek, Rosenheimer Str. 5
Director: Florian Opitz
Opitz's film is a search for a lost treasure: time. It introduces us to individuals who are responsible for the ever-increasing speed at which we live our lives, as well as individuals who dare to look for alternative lifestyles.
A discussion with the director Florian Opitz will follow the screening.
This event is part of the 5. Münchner Hochschultage: Ökosoziale Marktwirtschaft & Nachhaltigkeit - Wa(h)re Zeit.
Free and open to the public.
Reservations: Call 089 / 48 00 66-239. Reservations are only valid until 19:50.
About Green Visions Film Series
The Green Visions film series presents environmental documentaries from around the world, including discussions with directors, environmental experts, or film critics.
The series is a cooperation between the the RCC, ECOMOVE International, the Ökologisches Bildungszentrum, and the Münchner Volkshochschule. It is curated by former Carson Fellow and RCC Affiliate Alexa Weik von Mossner.