Film Screening + Discussion: More than Honey
Green Visions Film Series
20.03.2014 at 20:00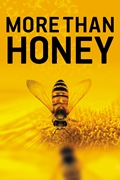 Location: Gasteig München, Vortragssaal der Bibliothek, Rosenheimer Str. 5
Director: Markus Imhoof
Swiss national Markus Imhoof uses never-before-seen close-ups of bees and disturbing images of the large-scale industrial use of bee colonies in the United Sates to ponder the question: Why are bees dying off in great numbers around the world? This phenomenon is threatening to eliminate one third of the world's food production.
A discussion with Walter Haefeker, President of the European Professional Beekeepers Association, will follow the screening.
Free and open to the public.
Reservations: Call 089 / 48 00 66-239. Reservations are only valid until 19:50.
About Green Visions Film Series
The Green Visions film series presents environmental documentaries from around the world, including discussions with directors, environmental experts, or film critics.
The series is a cooperation between the the RCC, ECOMOVE International, the Ökologisches Bildungszentrum, and the Münchner Volkshochschule. It is curated by former Carson Fellow and RCC Affiliate Alexa Weik von Mossner.