Film Screening + Discussion: Waking the Green Tiger
Green Visions Film Series
26.06.2014 at 20:00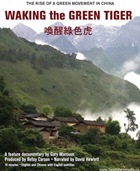 Location: Gasteig München, Vortragssaal der Bibliothek, Rosenheimer Str. 5
Director: Gary Marcuse (Canada and China, 2011)
For the first time in the history of China, a group of farmers, activists, and journalists manage to prevent the government from building of a massive dam at the headwaters of the Yangtze. The film shows never-before-seen footage from the time of Mao's regime, illustrating the environmental consequeces of his pledge to conquer nature in the name of progress and development.
A discussion with Prof. Dr. Sabine Dabringhaus, University of Freiburg, will follow the screeening.
The film is 78 minutes long and will be shown in English.
Free and open to the public.
Reservations: Call 089 / 48 00 66-239. Reservations are only valid until 19:50.
About Green Visions Film Series
The Green Visions film series presents environmental documentaries from around the world, including discussions with directors, environmental experts, or film critics.
The series is a cooperation between the the RCC, ECOMOVE International, the Ökologisches Bildungszentrum, and the Münchner Volkshochschule. It is curated by former Carson Fellow and RCC Affiliate Alexa Weik von Mossner.