Film Screening + Discussion: "Darwin's Nightmare"
Green Visions Film Series
17.01.2013 at 20:00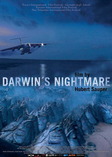 Location:
Gasteig München, Vortragssaal der Bibliothek, Rosenheimer Str. 5
Through stunning imagery, this film shows how a nightmare became reality on Lake Victoria in Tanzania. The release of the Nile perch in the 1960s nearly wiped out the lake's entire native fish population of over 400 species. Profits for the fishing industry were accompanied by the lake's destruction and, as a result of the rampant industrialization, so too were horrifying developments that wreaked social devastation, such as prostitution, HIV, and orphaned children.
Additional film info: Austria 2004, Hubert Sauper, 103 min.
In English with German subtitles
A discussion led by Hanna Schösler, Institute for Environmental Studies, University of Amsterdam, will follow the screening.
Free and open to the public.
Reservations: Call 089/ 93 94 89 61. Reservations are only valid until 19:50.
About Green Visions Film Series
The Green Visions film series presents environmental documentaries from around the world, including discussions with directors, environmental experts, or film critics.
The series is a cooperation between the the RCC, ECOMOVE International, the Ökologisches Bildungszentrum, and the Münchner Volkshochschule. It is curated by former Carson Fellow and RCC Affiliate Alexa Weik von Mossner.