Film Screening + Discussion: "Plastic Planet"
Green Visions Film Series
16.05.2013 at 20:00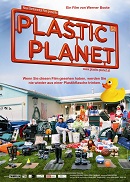 Location: Gasteig München, Vortragssaal der Bibliothek, Rosenheimer Str. 5
The film follows the plastic industry from its beginnings to the plastic-filled present. It shows how plastic trash ends up in the most remote corners of the planet. Particles of decaying plastic at sites such as the Moroccan desert and the Pacific mean certain death for the birds and sea creatures that live there.
Austria 2009, Werner Boote, 95 min, German original
A discussion with the director Werner Boote will follow the screening.
Free and open to the public.
Reservations: Call 089 / 48 00 66-239. Reservations are only valid until 19:50.
About Green Visions Film Series
The Green Visions film series presents environmental documentaries from around the world, including discussions with directors, environmental experts, or film critics.
The series is a cooperation between the the RCC, ECOMOVE International, the Ökologisches Bildungszentrum, and the Münchner Volkshochschule. It is curated by former Carson Fellow and RCC Affiliate Alexa Weik von Mossner.
Green Visions flyer, (pdf, 722 KB)