Film Screening + Discussion: "Waste Land"
Green Visions Film Series
11.07.2013 at 20:00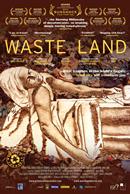 Location: Gasteig München, Vortragssaal der Bibliothek, Rosenheimer Str. 5
The film follows artist Vik Muniz on a journey from Brooklyn to the largest garbage dump in the world, located outside Rio de Janeiro. There he works with "catadores" who laboriously gather reusable material from the waste, revealing both the pride and desperation of these people who are starting to rethink their livelihood.
Additional film info: Brazil 2010, Lucy Walker, João Jardim and Karen Harley, 90 min.
Original with subtitles.
A discussion with Prof. Dr. Eveline Dürr, LMU Munich, will follow the screening.
Free and open to the public.
Reservations: Call 089 / 48 00 66-239. Reservations are only valid until 19:50.
About Green Visions Film Series
The Green Visions film series presents environmental documentaries from around the world, including discussions with directors, environmental experts, or film critics.
The series is a cooperation between the the RCC, ECOMOVE International, the Ökologisches Bildungszentrum, and the Münchner Volkshochschule. It is curated by former Carson Fellow and RCC Affiliate Alexa Weik von Mossner.
Green Visions Flyer (pdf, 722 KB)