Film Screening + Discussion "Müll im Garten Eden"
Green Visions Film Series
06.06.2013 at 20:00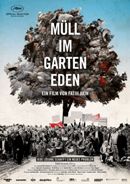 Location: Gasteig München, Vortragssaal der Bibliothek, Rosenheimer Str. 5A
Ten years ago the Turkish government decided to create a landfill near the mountain village of Cambumu. Because the facility doesn't meet important safety standards, it is a constant source of environmental problems in the region. The film shows the devastating consequences for the local tea growers and how they are trying to fight back against the government, judges, and financial interests.
Germany and Turkey 2012, Fatih Akin, 98 min,
Original with subtitles
A discussion with Prof. Dr. Sabine Wilke, (University of Washington/RCC), will follow the film.
Free and open to the public.
Reservations: Call 089 / 48 00 66-239. Reservations are only valid until 19:50.
About Green Visions Film Series
The Green Visions film series presents environmental documentaries from around the world, including discussions with directors, environmental experts, or film critics.
The series is a cooperation between the the RCC, ECOMOVE International, the Ökologisches Bildungszentrum, and the Münchner Volkshochschule. It is curated by former Carson Fellow and RCC Affiliate Alexa Weik von Mossner.
Green Visions Flyer (pdf, 722 KB)