Nacht der Nachhaltigkeit (Night of Sustainability)
Rethink Mobility and Energy
21.06.2013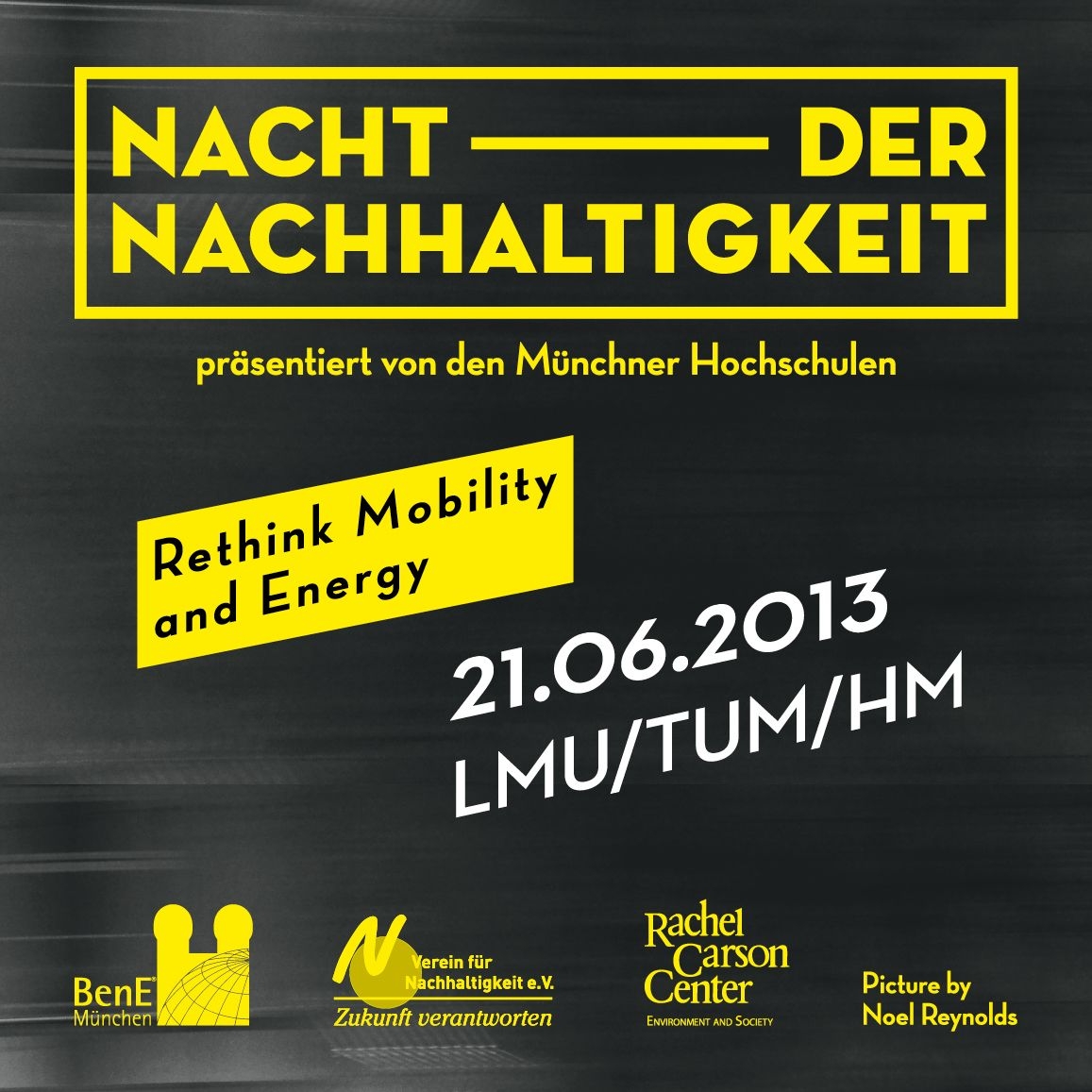 The Rachel Carson Center is pleased to announce an exciting partnership with BenE München and Verein für Nachhaltigkeit. Together we will host a Nacht der Nachhaltigkeit (Night of Sustainability) to take place at the LMU, the TU, and the Hochschul München (University of Applied Sciences). The theme of the night is: "Rethinking Mobility and Energy."
Entry to all events is free of charge. (All discussions and presentations are in German.)
Save the date: 21 June 2013.
For information in German, please download the flyer (PDF, 3.9MB).
1700-1930: LMU (Theresienstraße 41, Room C 123)
"What Makes Mobility Sustainable?"
Podium Discussion with experts from the universities of Vienna, Eindhoven, and Ulm. The moderator will be Prof. Dr. Thomas Zeller of the Rachel Carson Center.
COMPETITION: Science Slam
Have you had a brainwave for how to make the world a better, more sustainable place? Now you finally have a platform to present your projects and ideas!
From 7 p.m. in room C 123, a Science Slam will be held!
Your vision for a sustainable global society must last no longer than five minutes. The focus of your presentation - mobility, food, environment - is up to you.
Please note that the Science Slam is a German-language event.
The best news? Your effort could be rewarded! The Selbach Environmental Foundation is offering a prize of 500 euros to the best presentation.
To take part, please send your name and the theme of your presentation to koordination@leitbild-nachhaltigkeit.de as soon as possible. Any questions can also be sent to this address.
We look forward to hearing your ideas!
2000-2130: TUM (Theresienstraße 90, Room N 1190)
"Is Electromobility the Future of Mobility?"
Discussion with Dr. Weert Canzler (Innovation Center for Mobility and Societal Change, InnoZ), Arthur Dornburg (Managing Director, m+p consulting), and Prof. Dr. Markus Lienkamp (TU Munich).
"Mobile Gardening in Munich"
Talk by Ella von der Haide (lanscape gardener and filmmaker)
2200-0100: HM (Lothstraße 64, Foyer)
Appearances from performers Uwe Kaa & KaPaSa
Upcycling Workshop: "From Waste to Art"
In addition, the demand to "Rethink Mobility and Energy" will be taken from the lecture room to the street, with a demonstration jointly organised by BenE München and members of the groups "30kmh - macht die Straßen lebenswert!" ("30 km/h - make the streets livable!"), Fuß, Green City, sneep, and Gesundheitsladen München.
COMPETITION: Photo exhibition on the theme of Sustainability and Mobility in Munich
The Hochschule München invites submissions for its photo exhibition on sustainability and mobility. Photos can focus on one or both topics. Visitors to the exhibition will be given a sticker with which to mark their favorite entry. The winning entry will be awarded a prize of 200 euros.
Please send your applications to koordination@leitbild-nachhaltigkeit.de by 15 June. Any questions can also be sent to this address.