Conference: "Culture and the Anthropocene"
Co-sponsored by the Rachel Carson Center for Environment and Society at LMU Munich and the Alexander von Humboldt Transatlantic Network in the Environmental Humanities
14.06.2013 – 16.06.2013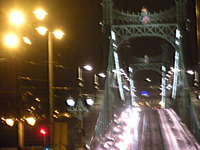 Venue: RCC and
IBZ
Conference report (PDF, 359 KB)
The RCC and the Humboldt Network are collaborating on a conference that explores the cultural dimension of the Anthropocene, a concept that was coined over a decade ago by atmospheric scientists to indicate the geologic dimension of man's impact on the Earth but that is now migrating into adjacent fields such as history and the arts, literature, and culture. Panels will address "Literary Modes of the Anthropocene," "Medial Images of the Anthropocene," "Cultural Landscapes and Narratives," "Transdisciplinary Conversations in Geology and Literature," "Critical Theory in the Anthropocene," and "Proto-Ecological Discourses in the Nineteenth Century," with a keynote panel on "New Modes of Thinking: Conceptualizing the Anthropocene." Scholars from the humanities, history, philosophy, and the sciences come together to discuss what it means to think about society and culture globally and with a planetary dimension.
To download the program, please click here (PDF, 330 KB)
To download the abstracts, please click here (PDF, 582 KB)
In the run-up to the conference, the RCC will be tweeting visions of the Anthropocene era under the hashtag #MyAnthrop. Follow us on twitter for updates.