Film Screening + Discussion: Über Wasser
Green Visions Film Series
18.04.2012 at 20:00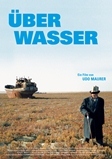 Location: Vortragssaal der Bibliothek, Gasteig, Rosenheimerstr. 5, Munich
Film Screening and Discussion with Christiane Fröhlich (Center for Democracy and Peace Research, University of Osnabrück)

Austria 2007, 82 min.
German original
The three stories that make up this film show the existential importance of water for humankind. It shows flooded Bangladesh, where houses turn into boats, the steppes of Kazakhstan, where fishing villages suddenly stand in a desert after the shrinking of the Aral Sea, and the densely-populated slums of Nairobi, where drinking water becomes a precious commodity and a question of life and death.
A discussion in German with Christiane Fröhlich, Center for Democracy and Peace Research, University of Osnabrück, will take place following the film.
The event is free and open to the public. Reservations can be made under 089/ 93 94 89 61. Please note that reservations are only valid until 19:50.
The Green Visions film series is a cooperative project between the Rachel Carson Center for Environment and Society, ECOMOVE International, the Ökologisches Bildungszentrum, and the Münchner Volkshochschule. The series is being curated by former Carson Fellow and RCC Affiliate Alexa Weik von Mossner.
Film Series Flyer - German (pdf, 220 KB)