Film Screening + Discussion: Gasland
Green Visions Film Series
16.05.2012 at 20:00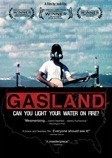 Location: Vortragssaal der Bibliothek, Gasteig, Rosenheimerstr. 5, Munich
Film Screening and Discussion with Werner Zittel (ASPO Germany)
USA 2010, 104 Min.
English with German subtitles
The film is concerned with hydrolic fracturing, a  controversial technique for extracting natural gas which is already extensively used in the USA and is being tested in Germany. To open a hole for drilling up to 122 million liters of chemically treated water are pumped into the ground under high pressure. The method has horrific side effects; the burning tap water shown in the film is only one.
A discussion in German with Werner Zittel, board member of ASPO (Association for the Study of Peak Oil and Gas) Germany, will take place following the film.
The event is free and open to the public. Reservations can be made under 089/ 93 94 89 61. Please note that reservations are only valid until 19:50.
The Green Visions film series is a cooperative project between the Rachel Carson Center for Environment and Society, ECOMOVE International, the Ökologisches Bildungszentrum, and the Münchner Volkshochschule. The series is being curated by former Carson Fellow and RCC Affiliate Alexa Weik von Mossner.
Film Series Flyer - German (pdf, 220 KB)