Film Screening + Discussion: Flow
Green Visions Film Series
14.03.2012 at 20:00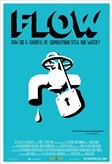 Location: Vortragssaal der Bibliothek, Gasteig, Rosenheimerstr. 5, Munich 
Film Screening and Discussion with Wolfram Mauser (Professor of Geography, LMU Munich)

USA 2008, 81 Min.
English with German subtitles
Water means life. Yet according to the most recent studies more than 30% of humankind suffers from water shortage. The director Irena Salina traveled around the world for five years in order to show the development and the consequences of water shortage. The result is a powerful film which will change your view of how we approach humankind's most important resource.
A discussion in German with Wolfram Mauser, Professor of Geography, LMU Munich, will take place following the film.
The event is free and open to the public. Reservations can be made under 089/ 93 94 89 61. Please note that reservations are only valid until 19:50.
The Green Visions film series is a cooperative project between the Rachel Carson Center for Environment and Society, ECOMOVE International, the Ökologisches Bildungszentrum, and the Münchner Volkshochschule. The series is being curated by former Carson Fellow and RCC Affiliate Alexa Weik von Mossner.
Film Series Flyer - German (pdf, 220 KB)