Film Screening + Discussion: The End of the Line
Green Visions Film Series
11.07.2012 at 20:00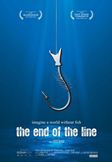 Location: Vortragssaal der Bibliothek, Gasteig, Rosenheimerstr. 5, Munich
Film Screening and Discussion with Katharina Jantzen (Johann Heinrich von Thünen Institute / Institute of Sea Fisheries)

Great Britain 2009
English with German subtitles, 83 min.
The film sheds light on the economic and social background of overfishing the seas as well as its catastrophic ecological consequences. In recent decades the combination of rising population in developing countries, the increasing popularity of seafood in western countries, and the development of high-tech methods for catching fish have brought countless species of fish close to extinction and destroyed the ecological balance of the oceans.
A discussion in German with Katharina Jantzen, Johann Heinrich von Thünen Institute / Institute of Sea Fisheries, will take place following the film.
The event is free and open to the public. Reservations can be made under 089/ 93 94 89 61. Please note that reservations are only valid until 19:50.
The Green Visions film series is a cooperative project between the Rachel Carson Center for Environment and Society, ECOMOVE International, the Ökologisches Bildungszentrum, and the Münchner Volkshochschule. The series is being curated by former Carson Fellow and RCC Affiliate Alexa Weik von Mossner.
Film Series Flyer - German (pdf, 220 KB)