Film Screening + Discussion: "Raising Resistance"
Green Visions Film Series
08.11.2012 at 20:00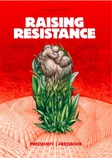 Location:Gasteig München, Vortragssaal der Bibliothek, Rosenheimer Str. 5
Soy wastelands as far as the eye can see--monocultures that are only profitable with genetically modified seeds, pesticides, and large-scale technology. This film portrays the fight of Paraguayan small farmers against a powerful alliance of property owners and the government, when the farmers' existence stands in the way of "progress." In the film, the farmers, as well as agricultural engineers, soy barons, and political authorities, are given the microphone. While police guns often put an end to the Campesinos' protests, their resistance continues.
Additional film Info: Germany 2011, Bettina Borgfeld, 84 min.
In English with German subtitles
The film's directors, Bettina Borgfeld, will lead a discussion in German after the screening.
Free and open to the public.
Reservations: Call 089/ 93 94 89 61. Reservations are only valid until 19:50.
About Green Visions Film Series
The Green Visions film series presents environmental documentaries from around the world, including discussions with directors, environmental experts, or film critics.
The series is a cooperation between the the RCC, ECOMOVE International, the Ökologisches Bildungszentrum, and the Münchner Volkshochschule. It is curated by former Carson Fellow and RCC Affiliate Alexa Weik von Mossner.