Film Screening + Discussion: "We Feed the World"
Green Visions Film Series
13.12.2012 at 20:00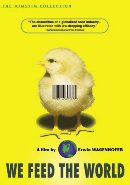 Location:
Gasteig München, Vortragssaal der Bibliothek, Rosenheimer Str. 5
This film traces the paths of our food from production to consumer, from soyfields in Brazil to greenhouse megalopolises in Spain. An interview with Jean Ziegler, the former UN Special Rapporteur on the Right to Food, is at the center of the film. However Peter Brabeck from Nestlé International, as well as fishermen, famers, and distributors are also interviewed.
Additional film info: Austria 2005, Erwin Wagenhofer, 96 min.
In German
Dr. Martin Demmeler of Mareg (Projektbüro für Forschung, Beratung und nachhaltige Entwicklung in Augsburg) will lead a discussion in German after the screening.
Free and open to the public.
Reservations: Call 089/ 93 94 89 61. Reservations are only valid until 19:50.
About Green Visions Film Series
The Green Visions film series presents environmental documentaries from around the world, including discussions with directors, environmental experts, or film critics.
The series is a cooperation between the the RCC, ECOMOVE International, the Ökologisches Bildungszentrum, and the Münchner Volkshochschule. It is curated by former Carson Fellow and RCC Affiliate Alexa Weik von Mossner.