Film Screening + Discussion: Die 4. Revolution
Green Visions Film Series
08.02.2012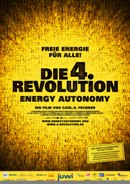 Location: Vortragssaal der Bibliothek, Gasteig, Rosenheimerstr. 5, Munich
Film Screening and Discussion with Carl-A. Fechner (director of the film)

Germany 2010, 83 min.
German
Renewable energy has enormous potential to revolutionize our energy supply. Wind, water, and solar power are technically so advanced that they could meet all our energy needs in a relatively short time. Encouraging popular support for these technologies among the greater public is the goal of this film which provides a positive counterweight to the current, wide-spread trend of "climate pessimism."
A discussion in German with Carl-A. Fechner, the director, will take place following the film.
The event is free and open to the public. Reservations can be made under 089/ 93 94 89 60.
The Green Visions film series is a cooperative project between the Rachel Carson Center for Environment and Society, Ecomove International, the Ökologisches Bildungszentrum, and the Münchner Volkshochschule. The series is being curated by former Carson Fellow and RCC Associate Alexa Weik von Mossner.
Film Series Flyer - German (pdf, 372 KB)