Chilean-German Workshop at the Rachel Carson Center
From Hand-Lenses to Telescopes: The Best Way to Explore the Micro- and Macrocosm in Natural Laboratories in Extreme Zones of Chile and the World
07.09.2021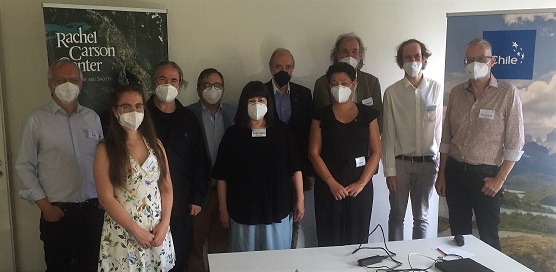 On 11 August 2021, the Rachel Carson Center hosted a transdisciplinary workshop on natural laboratories in Chile and their contribution to a more sustainable future.
The central idea of the workshop was to explore the role of natural laboratories as a means to secure respectful and attentive cohabitation between humans, other animals, and organisms. For participants this meant having a closer look at the work performed in natural laboratories in the most northern and most southern parts of Chile. In the North, the astronomical observatories in the Atacama Desert managed by the European Southern Observatory (ESO) provide a gateway to the macrocosm of the world. In the South, the new Cape Horn International Center (CHIC) in Puerto Williams takes natural scientists, artists, and scholars of the humanities on a journey through miniature forests, observing the lives of small organisms, such as mosses, lichens, fungi, and insects.
Participants of the workshop were discussing the value of getting involved with those forms of life that exist on the brink of our own imagination. They saw that the overall understanding of the biosphere and future prevention of environmental degradation depends on cultural change and the re-embedment of humankind in these micro- and macrocosms of the world.
The workshop is part of a long history of collaboration among German and Chilean academics as well as public and private partners who seek to pursue and support research, education, and biological conservation to advance social, economic, and environmental sustainability.
The workshop was led by Christof Mauch (Director of the RCC), Matías Undurraga (Consul General of Chile in Munich), Ricardo Rozzi (Director of CHIC: then RCC fellow; University of North Texas, USA; Universidad de Magallanes, Puerto Williams, Chile), Xavier Barcons (Director General of ESO), astronomer Teresa Paneque, Kurt Jax (Department Naturschutzforschung Helmholtz-Zentrum für Umweltforschung - UFZ, Leipzig), Christian Printzen (Head of the Cryptogame Section Senckenberg Naturmuseum, Frankfurt), Laura Sánchez (University of Magallanes, Chile), Martín Fonck (doctoral student at the RCC and the Institute for Social and Cultural Anthropology, LMU), and José Miguel Aguilera (former president of Comisión Nacional de Investigación Científica y Tecnológica (CONICYT); P. Universidad Católica de Chile).
See here for an article on the workshop published in La Prensa Austral on 18 August 2021 and a contribution on the workshop to the latest newsletter of the Bayerische Repräsentanz für Südamerika.