New President and Vice-President of the Society of Fellows
14.08.2019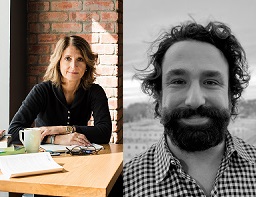 The Society of Fellows—the alumni network of all former Carson Center fellows—has a new president and vice-president. Sophia Kalantzakos will be taking on the role of president and Rob Gioielli will be taking on the role of vice-president. Congratulations!

If you're interested in learning more about the Society of Fellows, click here.

Sophia Kalantzakos is Global Distinguished Professor in Environmental Studies and Public Policy at New York University and a long term affiliate at New York University Abu Dhabi. This academic year 2019–2020 she will be a Fung Global Fellow at the Princeton Institute for International and Regional Studies. Her most recent books include China and the Geopolitics of Rare Earths (Oxford University Press, 2018) and The EU, US, and China Tackling Climate Change: Policies and Alliances for the Anthropocene (Routledge, 2017). Her interdisciplinary research focuses on environmental governance, public policy, and geopolitics, especially resource competition and climate change as threats that are reshaping power politics across the globe. She heads eARThumanities, the Environmental Humanities Research Initiative at NYU Abu Dhabi. During her time as a Fung Fellow, Kalantzakos will examine how China's rise, its vision for the Belt and Road Initiative, shifting power relations, and the land and maritime "re-unification" of Eurasia and Africa have begun to reshape global institutions, norms, and governance structures in a way that provokes a renewed intellectual debate over global relations and exchanges. Sophia is a Rachel Carson Center board member and was a fellow in 2015, and an alumni fellow in 2018.

Rob Gioielli is an environmental historian, with a particular interest in the intersections of race, justice, and the urban environment, as well as the critical history of environmentalism. He is currently an associate professor of history at the University of Cincinnati, where he teaches courses in history and environmental studies and directs the Blue Ash College Honors Program. His first book, Environmental Activism and the Urban Crisis, explored how the American environmental justice movement emerged from protests and organizing by poor, working-class and minority urbanites in the 1960s and 1970s in response to the active destruction of their homes, neighborhoods, and communities. After writing a history of environmentalism from the bottom up, he explored it from the top-down, spending a few years researching environmental philanthropy, as well as the culture and politics of international wildlife conservation. Rob was also recently elected chair of the board of the directors for the Over-the-Rhine Museum, an effort to create an immersive, community-focused museum in Cincinnati's most historic and diverse, but rapidly changing neighborhood. Rob was a fellow in 2010–11 and an alumni fellow in 2019.