Kieko Matteson Appointed as RCC-Berghahn Series Editor
16.05.2018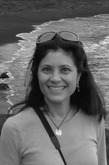 Alumna Kieko Matteson has been appointed as a series editor for the The Environment in History: International Perspectives, a series published by the RCC with Berghahn Books.
Matteson succeeds David Moon to join series editors Christof Mauch, Helmuth Trischler, and Dolly Jørgensen.
The series showcases high quality research in environmental history and related disciplines from around the world, investigating the relationship between human society and the natural world from historical, cultural, and political perspectives.