RCC Special Issue of Global Environment Journal "The City and the Country" Published
Volume edited by Agnes Kneitz
07.03.2016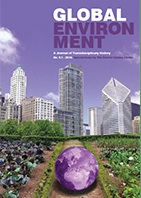 The latest RCC special issue of Global Environment, "The Country and the City," edited by Agnes Kneitz, has been published by White Horse Press. The articles in this volume aim to break down the city/country binary and create a more complex understanding of the interconnections between city and countryside. Examining topics from the feces-fertilizer cycle in China, to anti-urban policies in Tanzania, landfills and air pollution in the United States and England, and fisheries in Japan, the contributions are truly global in scope and represent a wide variety of disciplines—from environmental history and geography to architecture and political science.
The papers arose out of a conference dedicated to Raymond Williams's groundbreaking work The Country and the City. It was sponsored by RCC together with the Center for Ecological History at Renmin University in Beijing, China.
For more information about the issue, please visit the Global Environment website.