Towards a Better Understanding of Societal Responses to Climate Change
RCC alumna Katrin Kleemann contributes to a study published in Nature
24.03.2021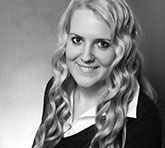 Katrin Kleemann, a currently visiting scholar to the RCC and a graduate of the RCC's doctoral program, is a contributing author to an article recently published in Nature. The article presents a newly developed framework for addressing the challenges common to studies of the history of climate and society. By applying their framework, the team uncovered five pathways that helped pre-modern populations adapt to climate change.
"We wanted to figure out why so much research in this area is focused on disaster and how we could encourage more research into the strategies that allowed past populations to cope with climate change," says Dagomar Degroot, associate professor of environmental history at Georgetown University and the study's first author. "With this framework we hope to help other researchers find more diverse connections between climate and society, which we hope will lead both to a more realistic understanding of the past and a better guide to the future."
Based on her doctoral research, Katrin Kleemann's case study analyzes how societies along the Rhine, Neckar, Moselle, Main, and Elbe rivers in Germany coped with ice drifts and flooding in early 1784. As a result of the Icelandic Laki Fissure eruption in 1783, winter temperatures in Europe dropped. While the winter of 1783/1784 was severe, with a lot of snow and ice, sudden thawing in February 1784 coincided with heavy rain leading to ice drifts and flooding along several central European rivers.
Based on eye-witness reports in contemporary historical sources, the case study reveals that warning systems, such as ringing church bells or firing cannons, existed to alert locals and downstream communities to the imminent threat. Once the flooding wreaked havoc, relief efforts were organized by the Church and wealthy inhabitants, who donated supplies. Once the flooding had subsided, governments introduced precautionary hygienic measures that included washing the walls of affected buildings and assessing which buildings needed demolition, repair, and were safe to live in again. Resilient institutions compensated for the vulnerability of citizens in flood prone regions.
Although changes in the climate faced by societies in the past were smaller in magnitude than those predicted as a consequence of climate change, the case studies presented in the article aim to show that communities often adapted and persisted through periods of climatic variability. By identifying previously overlooked examples of resilience in the past, the article aids efforts to adapt to the climatic changes facing societies today.