Gregg Mitman Awarded ERC Advanced Grant
For his project VIRHIST, multi-perspective views of pandemic threats
31.03.2020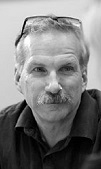 The RCC is delighted to announce that Researcher in Residence, affiliated professor, and head of the academic board, Gregg Mitman, has been awarded a European Research Council Advanced Grant for his innovative new research project VIRHIST ("Bloodborne: Hot Zones, Disease Ecologies, and the Changing Landscape of Environment and Health in West Africa"). Gregg applied for the grant together with the LMU and the project will run from the RCC.
The ERC Advanced Grants are aimed not only at strengthening Europe's knowledge base, but also creating new post-doc, PhD, and other research positions.
"I am glad to announce a new round of ERC grants that will back cutting-edge, exploratory research, set to help Europe and the world to be better equipped for what the future may hold. That's the role of blue sky research. These senior research stars will cut new ground in a broad range of fields, including the area of health. I wish them all the best in this endeavour and, at this time of crisis, let me pay tribute to the heroic and invaluable work of the scientific community as a whole." -- The President of the European Research Council (ERC), Professor Mauro Ferrari.
Gregg Mitman is the Vilas Research and William Coleman Professor of History of Science, Medical History, and Environmental Studies at the University of Wisconsin-Madison, the founding director of the Nelson Institute's Center for Culture, History, and Environment (CHE), and is a past president of the American Society for Environmental History (ASEH). During the last decade, Mitman has increasingly focused on public humanities projects. In 2007, he created the Tales from Planet Earth film festival, and he recently coproduced and codirected with Sarita Siegel, In the Shadow of Ebola, an intimate portrait of the Ebola outbreak in Liberia, and The Land Beneath Our Feet, a documentary on history, memory, and land rights in Liberia.
His new project deals with a multi-perspective view of pandemic threats. Using the example of West Africa, he examines the ecological, economic, political, and social forces that have turned certain regions of the world into profitable enclaves for the exploitation of natural resources and their biodiversity into valuable reservoirs for biomedical research. At the same time, these regions are considered hot spots for the emergence of new types of infectious diseases that have kept the world on tenterhooks. Mitman will focus on the question of how Western economic interests have on the one hand produced new insights into the ecology of diseases, but on the other hand changed the environment and the species structure in such a way that new pathogens have been able to thrive.