Seeing the Woods Blog Post Considered Key Conservation Resource
The Future of Amazonia: Inheritance or Ruin? By Marcílio de Freitas
18.09.2020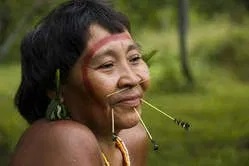 A piece published recently on the RCC blog Seeing the Woods by guest author Marcílio de Freitas has been highlighted as an important bibliographic reference for the UN's Science Panel for the Amazon (SPA) and as an important academic contribution to the work of the Amazon Tall Tower Observatory (ATTO), a German-Brazilian joint project that serves as the world's largest natural sciences research laboratory on the Amazon. You can read the blog post here.
Marcílio de Freitas is a professor at the Federal University of Amazonas, Brazil, and former Secretary of State for Science and Technology of the state of Amazonas. He is also author of The Future of Amazonia in Brazil: A Worldwide Tragedy (Peter Lang Publishing, 2020).
We would like to thank Marcílio for choosing to publish on our platform, as well as RCC Academic Editor Kristy Henderson for her editorial support on the piece.