Ruth Sandwell Discusses Energy Transitions on The Sunday Edition
31.07.2019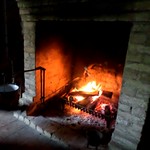 Former RCC fellow Ruth Sandwell was featured on the Canadian Broadcasting Corporation's (CBC) national Sunday morning current affairs radio show, The Sunday Edition. In her interview, Ruth discusses the project she worked on during her fellowship at the RCC, the history of energy transitions in the home (1850–1950), specifically how Canada lagged behind other nations in terms of the transition from wood and fire to coal, gas, oil, and hydroelectricity.
Listen to the full interview here.
If you would like to watch her Lunchtime Colloquium on the same topic, view here.