Assistant Professorship for Javier Puente
06.02.2019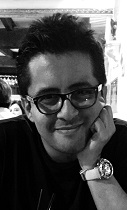 After four years of service in the Instituto de Historia at the Pontificia Universidad Católica de Chile, former Carson fellow Javier Puente will take a position at Smith College (Northampton, MA) as assistant professor of Latin American and Latino/a studies.
At Smith, Puente will teach interdisciplinary classes on Latin America's past, present, and future, particularly focusing on environmental narratives and the intersection of climate and conflict.
While at the RCC in 2018, he worked on his project "Arid Pastures and Violent Paths: El Niño 1982–1983 and the Environmental Making of Sendero Luminoso."