RCC IT/Communications Associate Nominated as Mayoral Candidate
Maximilian Heumann running in Neufahrn
08.10.2019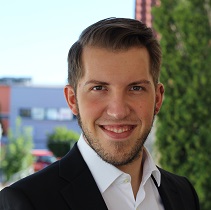 Congratulations to Maximilian, who has been nominated by the Sozialdemokratische Partei Deutschlands to run as a mayoral candidate in the Munich district of Neufahrn! Max, who during the day works at the RCC as our resident IT wizard, had this to say:
"Why am I running for mayor in Neufahrn besides being the RCC's IT/Communications Associate and writing a dissertation?
I want to take up this opportunity to actively shape my hometown. There are three main causes I want to push further: First, I want to lead my municipality to recognise the climate emergency as a defining political principle. I want to lead Neufahrn to be climate neutral by 2030. Second, I want to fight for affordable living space, so that students, young families, the elderly, and people with little income in general are able to find an apartment more easily than at present. Third, it's my desire to make the communal politics more transparent for everyone. I want people to be able to contact the town hall and the mayor electronically, via phone, and of course in person.
I am confident that with the support of my family, friends, and fellow party members I will win the mayorship in 2020.
#NeufahrnwirdRot"