New Book by Nicole Seymour
31.10.2018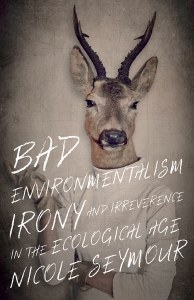 Bad Environmentalism: Irony and Irreverence in the Ecological Age (University of Minnesota Press)
Nicole Seymour develops the concept of "bad environmentalism": cultural thought that employs dissident affects and sensibilities to reflect critically on our current moment and on mainstream environmental activism. From the television show Wildboyz to the short film series Green Porno, Seymour shows that this tradition of thought is widespread—spanning animation, documentary, fiction film, performance art, poetry, prose fiction, social media, and stand-up comedy since at least 1975. Seymour argues that these texts reject self-righteousness and sentimentality, undercutting public negativity toward activism and questioning basic environmentalist assumptions: that love and reverence are required for ethical relationships with the nonhuman and that knowledge is key to addressing problems like climate change.
Funny and original, Bad Environmentalism champions the practice of alternative green politics. From drag performance to Indigenous comedy, Seymour expands our understanding of how environmental art and activism can be pleasurable, even in a time of undeniable crisis.
Nicole worked on Bad Environmentalism during her fellowship at the RCC.