New Board Memberships for Christof Mauch
11.06.2018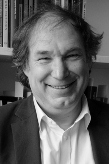 Christof Mauch was invited to join LMU's new Center for Book Studies as a founding member.
He has also joined the Board of Editors for the Cambridge Elements series, published by Cambridge University Press.
Earlier this year, Mauch joined the Academic Board of the Centro Maria Sibylla Merian de Estudios Latinoamericanos Avanzados en Humanidades y Ciencias Sociales (CALAS).