John McNeill Elected President of the American Historical Association
20.07.2017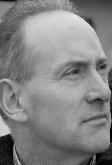 The RCC is pleased to share that alumnus John McNeill has been elected president of the American Historical Association (AHA) for 2019–2020.
McNeill previously served as a vice president of the AHA from 2012 to 2015.
The American Historical Association is the largest professional organization serving historians in all fields and professions. The AHA plays a prominent role in articulating the value of history and historical thinking, and promoting new approaches to historical education and scholarship.