New Book by Alumnus Timothy LeCain
The Matter of History: How Things Create the Past
17.11.2017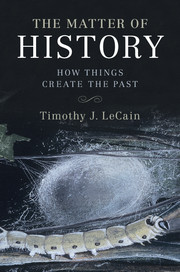 The Matter of History: How Things Create the Past by Timothy LeCain (Cambridge University Press, 2017) takes a critical look at new-materialist ideas and theory, using empirical examples to present a neo-materialistic method of historical review.
LeCain describes new scientific insights that challenge perceptions of "human" identity, providing a striking post-anthropocentric view of the past. He highlights the role of nonhumans and things in shaping human beings, their culture, and societies.
Impeccably researched, The Matter of History specifically describes the importance of three key natural entities—cattle, silkworms, and copper—in the coming together of two nations in a pivotal moment in cultural and social history, the Great Convergence.