Bron Taylor Receives Lifetime Achievement Award
23.04.2017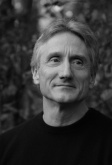 Carson fellow Bron Taylor was recently awared a Lifetime Achievement Award by the International Society for the Study of Religion, Nature, and Culture (ISSRNC).
The award honors scholars who have made outstanding contributions to the study of religion, nature, and culture, and whose work has a relevance and eloquence that speaks to scholars and the public.
Taylor, who founded the ISSRNC in 2007, has been a central figure in the articulation and construction of religion and nature as a field of study.