RCC Well Represented at 6th ESEH Conference in Turku, Finland
14.06.2011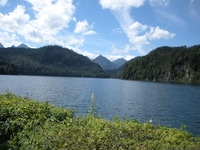 The Sixth Biennial Conference of the European Society for Environmental History (ESEH) will meet in Turku, Finland from 28 June to 2 July 2011. The RCC will be well represented with many fellows (current and alumni) as well as staff giving papers and chairing panels. In addition, the RCC is co-sponsoring the Turku Book Award, which will be awarded for the first time at the Reception of Turku University and Turku City on 30 June. The RCC will also have an info booth at the conference, featuring current publications and further information about the Center.
Carson Fellows, both current and alumni, who will either be presenting a paper or chairing a panel include: Wilko Graf von Hardenberg, Shen Hou, Martin Knoll, Patrick Kupper, John McNeill, Lajos Ràcz, Martin Schmid, and Donald Worster
The following staff, LMU Fellows, and Visiting Fellows will also be participating in the conference: Kimberly Coulter, Andreas Grieger, Agnes Kneitz, Jagdish Lal Dawar, Christof Mauch, Angelika Möller, Ursula Münster, Franziska Torma, Helmuth Trischler, and Frank Uekötter,
For a complete list of panels featuring RCC fellows and staff, please visit the event profile in our calendar of events.
For more information and a complete program of the conference, please visit the conference's website.