Reinhold Leinfelder Publishes Edited Collection
September 2011
08.09.2011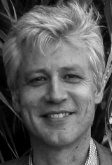 A collection of essays on controversies surrounding evolution, co-edited by
Carson Fellow Reinhold Leinfelder
, has been published.
Darwin und kein Ende? Kontroversen zu Evolution und Schöpfung,
edited by H. Bayrhuber, A. Faber, and Leinfelder, also features an essay from Leinfelder, ''Biologische und kulturelle Evolution: Missverständnisse und Chancen.'' The volume has been published by the Kallmeier publishing house together with Klett and Friedrich publishing houses.