Directions
Buying a ticket
The airport is in the outermost zone (zone 4) of Munich's public transport system (MVV/ MVG) and the Rachel Carson Center is located in the central zone. We recommend you purchase a day ticket for the entire network (Tageskarte Gesamtnetz), which will cover any journeys on public transport for the rest of the day. If you are travelling in a group, a Partner-Tageskarte covers up to five adults travelling together. Don't forget to validate (date-stamp) your ticket before boarding a train. Alternatively, you can purchase a "stripe ticket" (Streifenkarte) and validate the first eight stripes, or a single ticket. For a picture see here
Travelling to the RCC
Munich airport is served by the S-Bahn (commuter train). Inside the airport, follow the green S signs to the station. There are two lines operating from the airport, the S8 and the S1. For the RCC, you can take either line, the S8 takes you a bit faster to the RCC. A train leaves approximately every 10 minutes.
You should travel on the S-Bahn to the stop "Marienplatz" in central Munich. The journey time is approximately 45 minutes.  At Marienplatz you need to change onto the U-Bahn (subway) northbound to get to the stop "Giselastraße". Follow the blue U signs from the platform. Both the U3 and the U6 travel to Giselastraße – ensure that you are travelling in the direction of Münchener Freiheit (Richtung Münchener Freiheit). Giselastraße is the third stop.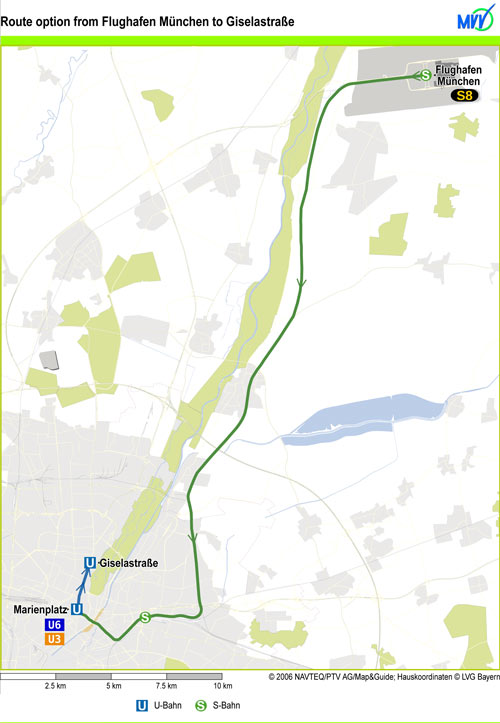 Alighting at Giselastraße, follow signs to the exit "Georgenstraße". On exiting the subway station, you will be on Leopoldstraße: the RCC is located just a few metres from the subway exit, house number 11a, on the fourth floor.